Ladies' Night Prize Winners!
Ladies' Night Prize Winners!
Posted on Tuesday, November 19th, 2013 at 1:18 am by Georgetown
THE TIME HAS COME – the list of WINNERS has been released!!
Pandora jewelry, a Michael Kors leather handbag, gift certificates to Georgetown Jewelers and much more! Special thanks to our friends at fire + wine, Salon 448, and Perfect Exposure Tanning Suites for contributing some great prizes!
You placed your vote by sharing your tickets and the winners are...
Wearing the Most Pink - Pink scarf and leather journal $40 value - Nancy Morong
Most Unique Handbag - Couture handbag ring holder - Gail Cernauske
Most Outrageous Shoes - Couture stiletto ring holder - Dawne Morong
Most Unique Manicure - Manicure set, $60 value - Eli (Eileen) Williams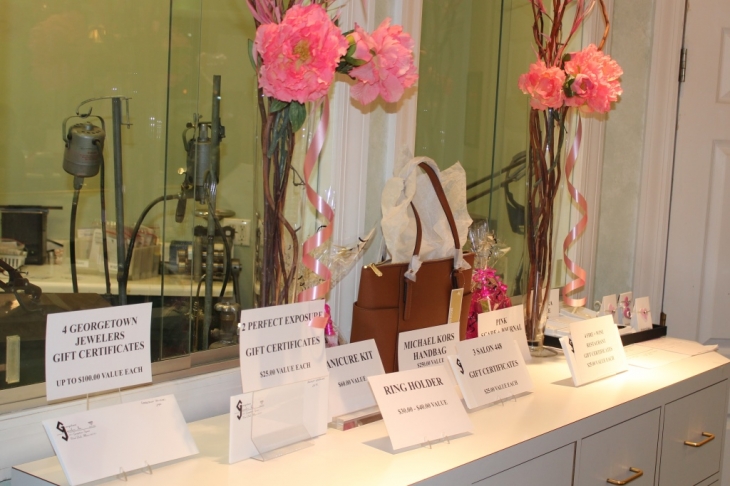 And the lucky raffle winners are...
Pandora strawberry charm - Jackie Mergew

Pandora Love Knot charm - Olga Cruickshank

Pandora Love Knot charm - Jenny Zavala

Pandora Lariat - Mary Overlin
Pandora silver snap clasp bracelet - Linda Cames

Pandora silver snap clasp bracelet - Sharon Palmatier

Pandora silver snap clasp bracelet - Kelly Cheney

Pandora leather bracelet - Carol Kowal

$25 Georgetown Jewelers gift certificate - Nancy Cannon

$25 Georgetown Jewelers gift certificate - Leonore Shaffer

$50 Georgetown Jewelers gift certificate - Gail Cernauske

$100 Georgetown Jewelers gift certificate - Jobeth Holmes

$25 fire + wine gift certificate - Andi Freres
$25 fire + wine gift certificate - Sharon Turban

$25 fire + wine gift certificate - Danielle Beauchamp

$25 fire + wine gift certificate - Shirley Gretza

$25 Salon four forty eight gift certificate - Eileen Rossa

$25 Salon four forty eight gift certificate - Meg Garcia

$25 Salon four forty eight gift certificate - Nancy Morong

$25 Perfect Exposure Tanning Suites gift certificate - Missy Bono
$25 Perfect Exposure Tanning Suites gift certificate - Linda Greco

Michael Kors leather handbag - Sue Turco
Thanks to everyone who joined us for a great event. We had a lot of fun – and a lot of pink! Here's a sneak peak of the party…