Don't Miss Your Chance!
Don't Miss Your Chance!
Posted on Friday, February 7th, 2020 at 2:32 am by Georgetown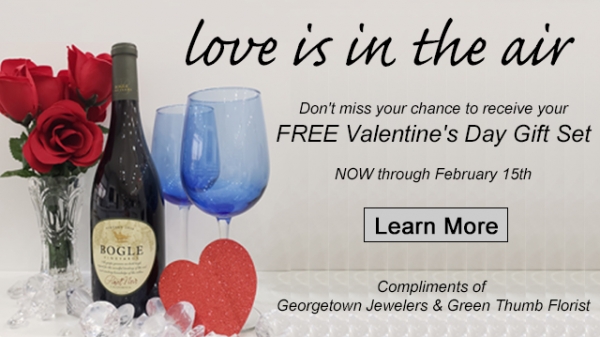 Don't miss your chance to receive a FREE gift set with your Valentine's Day purchase!
Available now through February 15th!
Receive a complimentary Wine Night Gift Set with a $250 Valentine's Day gift purchase.
Your choice of a wine plus a set of blue or green wine glasses.
A $25 value.
Plus...
Add a half dozen Bouquet of Roses from our friends at Green Thumb Florist to your Wine Night gift set with a $500 Valentine's Day gift purchase.
A $75 value.
Does not apply to previous purchases, layaways, special orders, repairs, appraisals or other services. Valid 2/7/20 - 2/15/20. Intended for Valentine's Day gifts only. Cannot be combined with other offers. While supplies last.